Text: Sue Hajdu; Pictures: Ngo Dinh Truc
Published in the magazineHeritage Fashion n°54 - 10-11/2009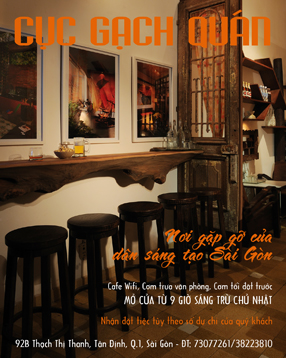 How often do you enter an interior that changes your life forever—that bursts your imagination into flames and changes the way you relate to objects and spaces?
It's a truly rare experience but this is exactly what happened to me the first time that I visited Cuc Gach Quan. I lingered for a while night chatting with friends over red wine, however my attention was not on my friends, it was constantly distracted by the details that filled the room. I had to forcefully pull my gaze away from one detail and over to the next, with a guilty glance thrown in-between, back towards my friends. My eyes were kind of stuck, anxious to register every detail fully before adding another to my memory. It was just like the way you pull the sole of your shoe off the ground when you have stepped on a piece of chewing gum. It was 1am by the time I arrived home. I flung open the front door, grabbed pencil and paper, and started re-designing my own house, sketching and fantasizing until dawn.
Cuc Gach Quan occupies the ground floor of a tube house that still has some 1950s traces remaining like the ginger colored floor tiles and the stairs in mint green terazzo and polished concrete. Upstairs the architectural office of the owner, Tran Binh, is busy with staff during the day. The building is totally standard in shape, but what Binh has done with it shows that with sensitive imagination, even such bog-standard, uninspiring buildings can be turned into places where miracles happen. Here "narrow" does not feel constrained or claustrophobic, instead it feels intimate, charmed, full of discovery.
The downstairs area is devoted to the restaurant area (which feels more like a much-loved lounge room) with an entrance area at the front and a kitchen at the rear. Guests who come to eat are friends and a few acquaintances, so the experience always feels like visiting home after a long time away, or dropping in for dinner at the home of close friends. Meals are in a binh dan southern style of man–xao–canh–rau. There is no menu to speak of, simply whatever is good at the market that day is served up deliciously on Binh's collection of antique plates. Drinks almost long-forgotten, like nuoc dau den, nuoc khe, nuoc chanh day add to the country-side feeling.
Not to be missed is a visit to the washroom (!) nestled under the steps to the first floor. Funky Mekong Delta colors turn the reverse side of the steps into a hint of Cai Luong, odd bits of mosaic tile left over from a completed job are arranged playfully on the floor or fill in a broken wall tile, and a tiny washbasin carved out of one solid piece of rock stands like a plinth in an art gallery. An immaculate lesson in how small spaces can be used interestingly, a trip to the washroom also allows you to glimpse into the kitchen and to pass over the central fish pond area which is built around the base of the stairwell. Normally areas like these end up as dead space in most houses, but instead Binh has created a network of wooden walkways that travels over the fish pond itself. Along one wall, tropical creepers hang down from three floors above, and sculptures jut out from the walls. It's all very reminiscent of a sacred bathing place in Bali, or a Japanese pond full of carp, but it's all somehow very Vietnamese.
Binh grew up in the western province of Tay Ninh, and his sensibility is very much guided by a love of Vietnamese vernaculars, in particular by the country style that was still intact in his youth. Old bits of wood are used here and there, reminiscent of the way that country people patch things up. The kitchen takes its inspiration from rustic kitchens, only the charcoal is missing. The ceiling is lined in the horrible plastic ceiling material that is often used in budget interiors, but it has been covered over with strip after strip of day rang do/day cao su, suspended between the two side walls, creating a tongue-in-cheek visual rhythm.
Binh is obviously a collector, not so much of fancy antiques, but of vernacular treasures—battered old things, ripe with patina. Back in the restaurant, a 1970's-vintange SONY TV set sits with equal presence to a Northern-style mother of pearl carved cabinet, dark wooden pillars like in a traditional Hue house, or a rusty old French door turned into wall panels. Bits of humor dot the room—a massive chemist's jar is filled with popcorn, curtains are decorated in a random pattern of cat's bells, attached with large safety pins.
Old music reels wind their way around and around creating a leisurely reverie of pre-75 ballads of the likes of Khanh Ly, Thai Thanh, Le Thu, Duy Trac, Hoang Oanh, Ha Thanh, Giao Linh… mingled with the voices of friends chatting discreetly. Couples snuggle on the soft lounges and comfy cushions that line the walls. The glow of low lighting keep you lingering over another glass of wine. It's a magical world. You won't want to break the spell by returning to the Ho Chi Minh City-brand of urban chaos outside, unless like me, you want to race home and start re-decorating your own place.